Swiss Bag Company Sàrl (Swissbags)
Swiss Bag Company is a Swiss family owned company which specialises in the creation and distribution of suitcases, handbags, backpacks, travel goods and sports goods.
We are pleased to announce the official opening of our new head office in Vouvry.
Visible since the beginning of the year, our building is located at the southern entrance to the village. On site, we take care of after-sales service, a store, an outlet, logistics and a Swiss Made manufacturing workshop.
As an important part of the distributors of leather goods and having evolved since its creation, Swiss Bag Company Ltd has created SwissBags®, Swiss Voyage as well as it's latest creation SW41BAGS®.
Founded in 2002, Swiss Bag Company is a company that manufactures and distributes exclusively its own brands as well as other internationally recognised brands;
Swissbags®
SW41BAGS®
Jump®
CabinZero®
With its experience in selling fashion and travel articles, Swissbags is now inevitable in the retail sector of leather goods in Switzerland.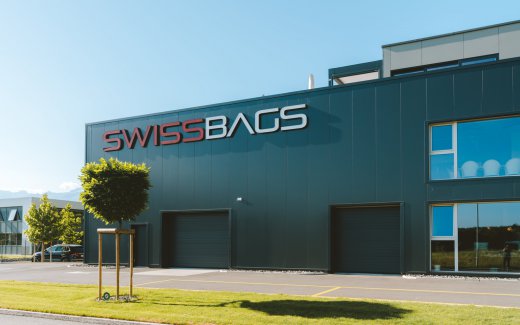 Thanks to its experience in the sale of suitcases, bags and travel goods, Swiss Bag Company remains today the leading specialist in the manufacturing and distribution of luggage in Switzerland and abroad.
With its 19 years of commercial experience, Swiss Bag company redefines the concept of service by adjusting the quality of its services. Our commitment is to provide our customers with a constant follow-up service to save time and simplify the work while listening out to the markets needs and demands.
Each season, our commercial team looks forward welcoming you on an individual basis to introduce you to our new collections.
All the brands are exposed in our showroom in a clear and harmonious way to guide you in your product selection.
Our motto remains, personalized advice and the clients needs.